Upcoming Events
November 16, 2023 from 12:00 PM CDT to 2:30 PM CT (Virtual via Zoom)
Staying competitive today requires both excelling at current operations and exploring emerging innovations. But how do you drive digital transformation without taking your eye off the core business? How do you filter hype from truly disruptive technologies? And how do you turn potential into real impact?
In this interactive session, you'll hear unique perspectives from equipment finance innovators and technology leaders on:
The cutting-edge technologies making the biggest waves in equipment finance
Actionable strategies for balancing incremental improvements and transformational change
Turning innovation from buzzword into business value
Case studies and lessons learned from digital transformation journeys
The panel discussions will be followed by facilitated roundtable conversations where you'll be able to connect with peers to:
Discuss your own technology opportunities and challenges
Generate new ideas and approaches you can immediately apply
Build your professional network with other innovators
Get inspired and explore the art of the possible with new technologies. Equip yourself with fresh ideas to drive innovation and experimentation within your team. Gain insights from the real-world experiences of peers and subject matter experts. Build connections with other leaders passionate about exploring emerging technologies.
Join us if you are eager to advance your thinking on emerging tech and want actionable insights on aligning digital transformation with business priorities. Walk away with new knowledge and new contacts to help you drive change.
Welcome: Ralph Petta, President & CEO, Equipment Leasing and Finance Association
Featuring Panelists from the ELFA Innovation Advisory Council:
Tawnya Stone, Great America
Lisa Fitzgerald, First Citizens
Beckham Thomas, Trnsact
Special Guest Panelist: Scott Nelson, Tamarack
Hosted & facilitated by:
Deborah Reuben, CEO & Founder of TomorrowZone and ELFA Innovation Advisory Council Chair
October 3, 2023 - October 6, 2023, JW Marriott San Antonio Hill Country Resort & Spa, San Antonio, TX
Learn more and register by clicking the link below.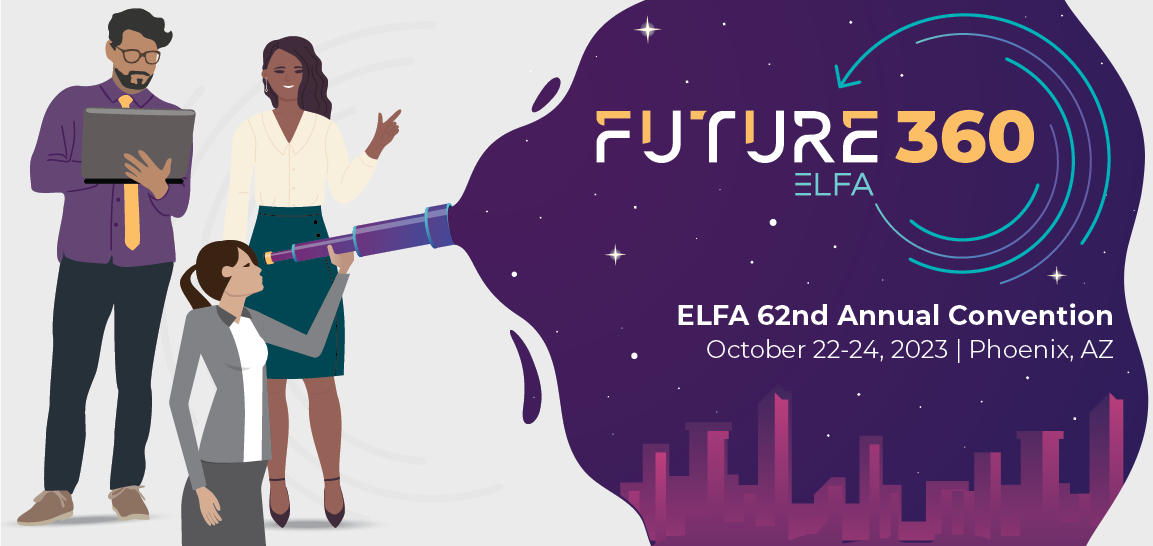 October 22, 2023 - October 24, 2023, JW Marriott Phoenix Desert Ridge Resort & Spa, Phoenix, AZ
In today's rapidly changing world, how can you avoid tunnel vision and keep an eye on the big picture to help your business succeed? At the ELFA Annual Convention, you'll get a 360-degree view of the evolving equipment finance marketplace. Join the largest and most important gathering of industry leaders to examine a wide range of critical industry trends and upcoming developments and what they mean for the future.
September 11, 2023 - September 13, 2023, Sheraton New Orleans, New Orleans, LA
Tamarack is looking forward to catching up with everyone at the ELFA Operations & Technology Conference and Exhibition Sept. 11-13 in New Orleans. In addition to having a booth in the exhibit hall, our team members will be participating in a number of panel discussions addressing digitization and equipment finance.
"Operations & Technology Excellence Award – 23 Years of Excellence!" featuring Oakmont Capital Services, Leasepath and Tamarack on Monday, Sept. 11, from 2:30-3:15 p.m.
"Digital Business Reinvention: A Complex Recipe for Continued Success" on Monday, Sept. 11, from 3:15-4:30 p.m.
"Don't Lose Your Voice When Using AI" on Tuesday, Sept. 12, from 1:15-2:15 p.m.
"Re-inventing Communications Through Digitization" on Wednesday, Sept. 13, from 9:30-10:15 a.m.
March 14, 2023 - March 16, 2023, The Palmer House Hilton, Chicago, IL
The ELFA National Funding Conference attracts the principals in leasing and finance organizations responsible for funding the company and its transactions, and for participating in transactions. They come to the National Funding Conference to meet with current funding sources and to establish new relationships to fulfill their funding needs.
March 21-24, 2023, InterContinental San Diego, an IHG Hotel
March 26-28, 2023, Omni Amelia Island Resort, Amelia Island, FL
The ELFA 2023 Executive Roundtable will bring together CEOs and Directors in the equipment finance industry who strive to create change and growth through Leadership with a Purpose.
Wednesday, February 15, 2023, at 3:00 p.m. (ET)
Financial technology experts Allen Jones with Copernicus and Scott Nelson with Tamarack Technology will share their tips for using technology to get ahead in business.
Solifi Summit
June 20-22, 2023, JW Marriott, Atlanta, GA
Solifi is excited to announce that its 2023 Solifi Summit will take place from June 20-22 at the JW Buckhead in Atlanta, GA. The annual user conference offers customers the ideal opportunity to learn how to leverage the power of Solifi's Open Finance Platform and share successes. At this event, Solifi experts will explain how to maximize your secured finance technology investment. Attendees will also have the opportunity to network with other Solifi customers, share insights and best practices, and connect with the Solifi executive team. This event will showcase Solifi's products and technology strategy with a focus on equipment finance and working capital applications.
Interested in finding out more? Contact your Solifi Account Executive.
Recent Events
---