Tamarack and Rinaldi Advisory Services form strategic partnership
By Tamarack
| Aug 29, 2023
Collaboration unlocks equipment finance data to deliver actionable executive-level business intelligence
Tamarack Technology has entered into a strategic partnership with the renowned equipment finance consulting firm Rinaldi Advisory Services (RAS). Through the partnership, Tamarack will enhance its business intelligence (BI) products and services by providing customers with access to executive-level reporting and insights from RAS.
"Bob (Rinaldi) and the entire RAS team have a very current and distinguished history as C-level leaders in equipment finance with independents, banks and captives," said Scott Nelson, president and CDO at Tamarack Technology. "RAS has developed a unique set of proprietary business performance metrics and models designed to optimize both growth and long-term enterprise value. With RAS' insights, we are enhancing Tamarack's business intelligence products and services."
The combination of Tamarack's comprehensive enterprise data aggregation and RAS' unique analysis tools will help business leaders increase profitability, competitiveness, and overall enterprise value. Through the partnership, Tamarack customers will be able to strengthen their competitive advantage by converting existing data within their organization into actionable executive-level intelligence and insights.
"In all the work that we do with clients we have found one inescapable truth: having easy access to all possible data elements of the business is integral to understanding and improving the business," said Bob Rinaldi, president of Rinaldi Advisory Services. "Tamarack's Data Console, Data Mart, and related AI tools combined with RAS metrics and modeling brings the data to life for the executives with actionable direction."
Within the next few months, the partnership will lead to new offerings that combine Tamarack's suite of AI and BI products with RAS' unique capabilities. The companies will also partner on marketing and content opportunities that raise awareness of the insights available through existing data sources within the equipment finance operations.
About Rinaldi Advisory Services
Rinaldi Advisory Services works with CEOs and principals of independent equipment finance companies to develop a bank-ready posture for an exit strategy that drives sales. Its team of advisors is comprised of C-level veteran practitioners with decades of experience starting, scaling, and leading M&A initiatives for commercial equipment finance enterprises. As growth strategists first and foremost, Rinaldi Advisory Services counsels clientele from the position of objective advisors, board members, and/or confidential resources for principals, CEOs and other C-level executives. The company advises on growth, credit/risk, funding, staffing, automation and other areas, based on the strategic life-cycle needs of the client, whether envisioning and implementing a business model, moving to the next level, or driving toward an exit strategy.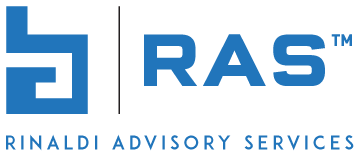 « Back