Guiding Financial Innovation
Tamarack helps equipment finance companies deploy AI and data-centric technologies using best-in-class technical expertise to enhance their offerings, productivity, and overall business performance.
Naturally Intelligent Financial Data
Tamarack is a technology company with a deep understanding of equipment finance and more than two decades of creating and implementing emerging technology solutions that enable equipment finance companies to realize greater value from their offerings and operations. We exist to help the equipment finance industry adapt and improve operational efficiency and effectiveness to create a better experience for customers.
Tamarack is the only product and service provider in the industry that delivers AI, business intelligence and service solutions that maximize equipment finance operations across the entire software ecosystem – we are service provider agnostic and partner with industry leaders to provide best-in-class solutions throughout the business enterprise. We understand equipment finance from origination to portfolio management and all the way through to collections. We have professional services expertise and industry-specific solutions that enhance existing systems, close technology gaps, and drive improved performance.
Learn More
Empower your clients with online functionality to manage their accounts.
Online Support Service that allows your customers to manage their contracts and an Administration Portal for internal use by your Customer Service Representatives (CSRs) to support your clients.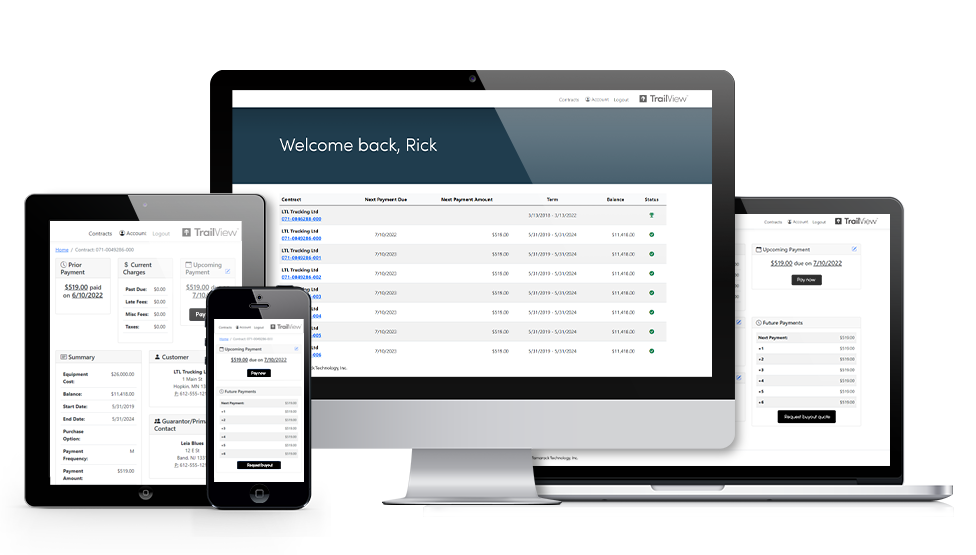 Learn More
Solve problems with prediction.
Predictors are AI-powered applications specially designed and trained for stakeholders in Equipment Finance Operations, EF Underwriting, and EF Sales.
Learn More
Powered by proprietary analysis and presentations from Rinaldi Advisory Services.
The product combines the comprehensive data set from across the enterprise, found in Tamarack's business intelligence and AI product suite, with RAS advisory tools to provide real-time data analysis for executives who need to make actionable decisions impacting the current and future performance of their portfolios.
Learn More
Focus on outcomes to enhance opportunities
The Data Console, part of the Business Intelligence (BI) solution, is designed for professionals in the equipment finance industry. This includes Equipment Finance Ops, EF sales teams, and EF partners such as lenders and brokers.
Learn More
Partners